Apartment house BÔRY
life in a garden and exterior

Socialising with family and friends

Barrier-free connection with the garden

Exchange stays with your friends

Hobby, relaxation, sauna, hot tub

Rental for recreational purposes

Business activity

Additional housing

Temporary housing

Guest house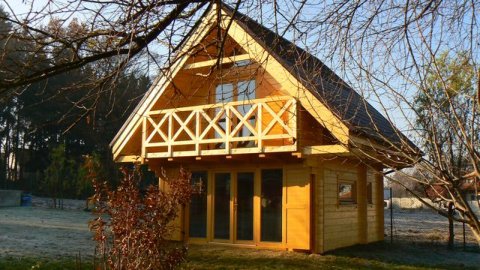 Apartment house BÔRY creates prerequisites for improvement of full use of a natural exterior - garden and full development of your social life as well as development of your hobbies and activities. In the architectural solutions of the apartment, we emphasized direct connection of the residential part with the garden, which is often missing in residential buildings. The apartment is also suitable for starting business (hairdressing, retail ...), or for the provision of recreational services.
One of its features is also temporary housing, which is very comfortable, because of the used basic building material - wood. You can accommodate your guests and friends and provide them with comfort.

"While you don't have it, you don't miss it. If you acquire it, you will not understand how you could be without it." We materialized something you miss.

The price includes:
88 mm thick DUO profiles
5 x 5 m size, usable area of 44 m2
Thermal insulation of the roof - 120 mm mineral wool
Thermal insulation of the floor - 50 mm polystyrene
PLASTIC roofing (excellent properties)
Staircase
Interior doors
EURO windows,
EURO doors with circumferential fitting MAKO with two seals, impregnated
Gutter system
Wiring (possible embedding in the log house)
Plumbing
Construction of the house, installation of roofing, insulation and accessories
Transport within Žilina and vicinity
The price depends on the used materials, the selected construction of thermal insulation, ranging from EUR 22,500 to EUR 33,900 including VAT.
We can also supply:
concrete base
bathroom and toilet accessories
outer impregnating coating
fireplace + chimney
insulation of circumferential walls
shutters
laminate flooring
engineering services (building permit)
Delivery time is 4 weeks.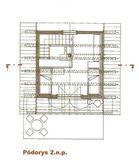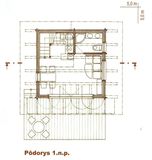 Involved in the project were:
Ing. Arch. Igor Krpelán (the author of numerous books focused on original architecture) - architectural design
OSSABOIS (French construction and design office) - structural design
TERESTAV, s. r. o. (professional construction company) - implementation